Design, Development and Support of UCANDRONE UAS Unmanned Systems
Custom Built Aerial Platforms for specialized customer needs

Technical Support, Consulting and Training Services in the construction and use of UAS

RTF Aerial Platforms (UASs) designed and manufactured by UCANDRONE

UAS Payloads
Advantages
Specially designed to serve specific needs
High specifications of construction material
Technologically advanced equipment
Excellent performances
Tested in demanding quality controls and tests
Very good value for money
Provision of Technical Support and Training
Unmanned on Demand
Design and production of high standards Custom Built Aerial Platforms for specialized customer needs

With the most modern and accredited construction materials in the aeronautical industry

CONOPS training

Flight File Analysis and Achievement through a fully industrialized CAD / CAM process

On-demand and Rapid Prototyping changes

Payload Integration

In collaboration with the largest Academic Institutions in our country and abroad

Support and Completion of UAS systems
Technical support and training
Technical Consulting & Training Services in construction – use UAS.
BTO and DIY UASs services for individuals and professionals.
Selling and / or renting Drones properly equipped for every need and staff training for their use.
UASs seminars.
After sale services.
PHOREAS
Specially designed for large-scale overviews.
Suitable for military purposes and internal security needs.
Designed to carry FPV / UAV equipment, for remote sensing and low altitude aerial photography / mapping.
It is a high standard unmanned aircraft with a flight duration of 4 hours and a payload of 0.55Kg.

Key features are it's innovative design, modular structure, quick assembly, ease of adding or removing the payload.
Available as anairframe ready for automatic pilot and payload integration.

Main advantages
High standard construction materials, flight duration, large-scale surveillance capability, high durability, very large flight envelope.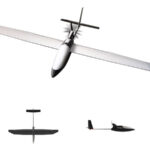 Do you have any queries? CONTACT US TODAY!
It will be our pleasure to contact us so that we can get to know you, discuss your needs and offer you the best possible solution! We look forward to know about your project!